images: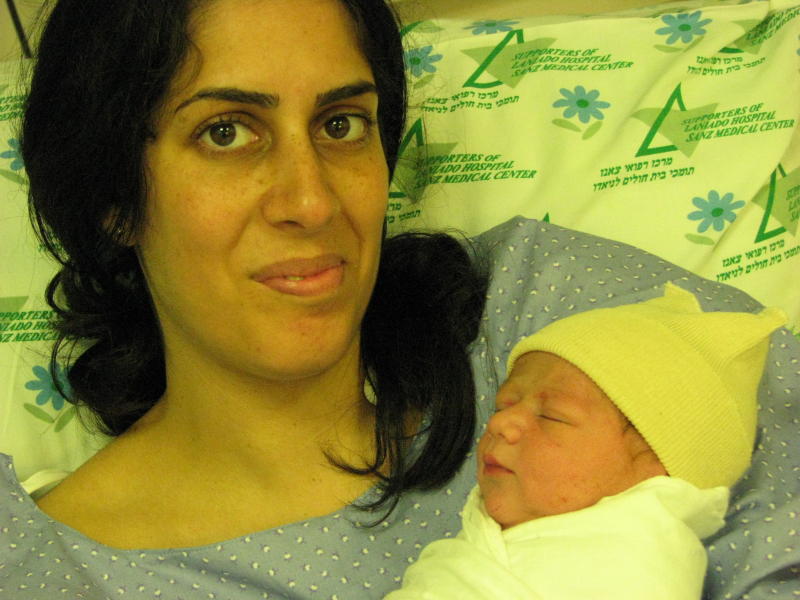 Because so many people asked, here's the short story of today's happening:
Yesterday (tricky start, ah? :) we were at the purim party. Hila had some pain, but because this was the 1st time she had pain, we thaught that this is the Braxton-Hicks. But Hila told me that I can't drink and we also have to go home early, because I have to be ready, maybe it's gonna happen tomorrow… So we went home at midnight. I was pretty tired, so I fall asleep fast.
The next thing I remember (and I really didn't drink!) is that Hila wakes me up at 4am, telling me that she has pain, but she doesn't know wether to go or not.
So I started to write down the times of the pains to see how long and how often they come. They were not very ordered, so we again thought it's only the "pre pain", on the other hand they were quite long (40-60 sec) and 3 times in 10 minutes. In the meantime Hila went to the toilette and she said that everything came out. Then we looked at each other, and understood that these are probably real pains. Finally we called the delivery room to ask if we should go even if every time it's different time between the pains. They said yes.
So we packed the last things (most things were already in a bag in the car) and left at 6:10.
A littlebit before 7 we arrived to the Laniado hospital in Netanya. It's a long way, but because of the early hour we got there fast. Hila went in to the "ladies only" monitor room.
At 7:30 a nurse called me to go to delivery room no. 7. I went there, a lady was cleaning it, and she said I have to wait, because nobody is there yet. So I got out. Then I started to think: wait! we planned to go to the special "natural" room in the other side of the building. What is going on here?
After a minute they called me in. Hila looked much different! (Until the last time I saw her at 7:00, she looked as usual, eventhough sometimes she told she has pain) The maternity nurse told me that Hila arrived with 9cm opening, so we "skip" right to the delivery, but first she has to fill in the form, so she asked some questions. In the middle of the questionare Hila told that she feels that she has to push, so we had to delay the last questions, because the delivery began.
Pain, laboring breath, fufufuuuuuuu, monitor, etc. I asked the nurse about the "spina", she said that the baby is already lower than the spines. This means that the head is below the narrowest place, so it's really fast from here.
Pain, push, aaaaaaaaaaa, fufuuuuuu. We already saw the baby's hair. But for some reason the head didn't get out. By this time there were almost no pauses between the pains. The nurse said that she needs to cut the perineum, because it started to break. Pain, push, AAAAAAAAAAAAAAAAAAAAAA. This time I started to cry.
But at the next push the other nurse said: OK, 8:56. What? I only see the head? Where is the rest? But it also came in a few seconds. So it was 8:57. :female_baby:
She put the Zurbi on Hila and the only thing was left to be done was the rest of the questionare. We also got the hand-badges (Zurbi: 3: on her legs and left arm, Hila and me 1-1) that enables us to identify ourselves and if the code matches we can move around with Zurbi between the different departments of the hospital.
Ah and they also had to saw a littlebit. Well not that little, because there were crashes all around, so it took about an hour (I had to hold Zurbi!)
After the long waiting in dad's hands finally she got back to mom to try breastfeeding.
When she had enough we measured her (3380g) then she got some clothes, then I went with Zurbi to the babies department, she got washed and a new hair style, some injections. Got measured (49cm) then we went back to Hila who still was waiting in the delivery room. Later they called me again to go to the babies department for the medical examination. Everything was OK.
They were not really used to this kind of sticky dads that don't let the baby alone for a second. But that's what we decided with Hila after we heard some stories. So at the end they always let me in. At least they did everything fast. Another advantage was that we didn't had to wait for the doctor for some hours, because they called us when he was there.
We went back to Hila, and not long later they took us to the ladies department and we got a room. I still had to go back with Zurbi once more to the babies department to get something done. It turned out that Hila has to sign something that they explained what to do with the baby before we can get her. But Hila was not able to leave the bed (she became unconscious once when she was on the toilette) so they offered me to leave the baby there and to get the paperwork done with Hila and then I could "get" the baby back. I said I won't leave her, I can take the paper with the baby back to Hila, then bring the paper back. But it seems that I can't leave with Zurbi. So I called Hila's mom to take the paper there, and bring it back after they read everything and signed. Then I took a chair and sat down next to her. Finally they understood that I won't leave, so a nurse came with me (this was the 1st time they let me push Zurbi's carriage, so far every time the nurse was so "responsible" that she even didn't let me do that) She explained to Hila not to leave the baby alone for a minute, not even when she want to take a shower, showed us how to change her, etc.
Zurbi was officially ours!
Since I was falling asleep (you know, Hila has some adrenalin after the labouring, we don't get anything) we decided that I go home to sleep and Sivan (Hila's sister) stayed there for tonight to help Hila until she'll feel good enough to take care of Zurbi alone.
So good night!