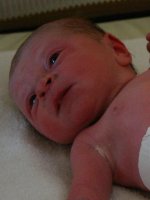 Sziasztok!
Én Győri-Fleischer Jázmin vagyok. Új vagyok itt a blogban, csak azt akarom mondani, hogy megszülettem

2005. június 23-án, csütörtökön, 18:03-kor. 2600g, 52cm,

és makkegészséges vagyok. Ja és anyu is jól van.
Ja, és anyu üzeni, hogy ha te nem tudsz magyarul, akkor ezt olvasd el:


Hi, I am Jázmin Győri-Fleischer. I'm new here in the blog, I just want to say that I was born on Thursday, 23rd June, 2005 at 18:03 (CEST). I am 2600g, 52cm and healthy. And mom is well too.